Back to The Life
Who is the antler man, and what does he do?
Shed antler hunting is becoming increasingly popular. Each year more and more people hit the hills in search of antlers, and when the piles of antlers start to stack up, many decide it is time to sell those hard-earned antlers.
I own Great Basin Antler Buyers and have been selling shed antlers for eight years. Each year I buy roughly 100,000 pounds worth of antlers and personally talk to hundreds of shed hunters across the West. Here are some of the most common questions that I receive each year from people either just getting into selling shed antlers or experienced veterans who want to know what their 200" mule deer set may be worth.
What is the breakdown for a set of elk sheds or deer sheds?
Sets of antlers are the toughest to sell unless they are very unique or massive. This is because people find and sell lots of 160" mule deer sets or 280" elk sets. A lot of the time, it is worth more to sell your smaller sets and price them per pound, instead of spending time and effort looking for the right buyer. There are a lot of things to consider when judging the value of a set of antlers. A 170" mule deer set can sell for a lot more if it has lots of mass or unique character like tall eyeguards or extra cheaters. For example, a two point mule deer set that scored 140" is very unique and rare, so this set would be easier to sell than a 180" four point set. Most sets are bought by the pound unless they score over 350", but even at that size they can be hard to sell.
How are deer antlers priced?
Deer sets are usually sold by the pound unless scoring over 160" and like I said, sets can be difficult to sell if you are looking for a buyer considering the time and effort spent trying to find the right buyer willing to pay more than a by the pound price. Deer antler sets scoring over 180" can usually be sold for a decent amount. A 180" set is worth approximately $150 to $200 depending on the look and characteristics of the set.
What is the average price for a 200" set of deer antlers?
A set of antlers at 200" can spark the interest of collectors. On average a 200" set is worth about $400, but can vary depending on the overall quality of the set. Each set is going to attract different people depending on the set's characteristics. Some sets are going to appeal to more people, which will make them worth more.
What is the average price for a 350" set, 360" set, 380" set? What is the average price that they can be sold for?
On average, a 350" set is worth about $400 and for every 10" above that add about $50. A 380" set and larger will be worth between $550 to $1,000. The value depends on the individual set. Some sets are unique in their own way which can add value or spark interest in a buyer based on the size, color, or uniqueness.
What is the average price for a 400" set of elk antlers?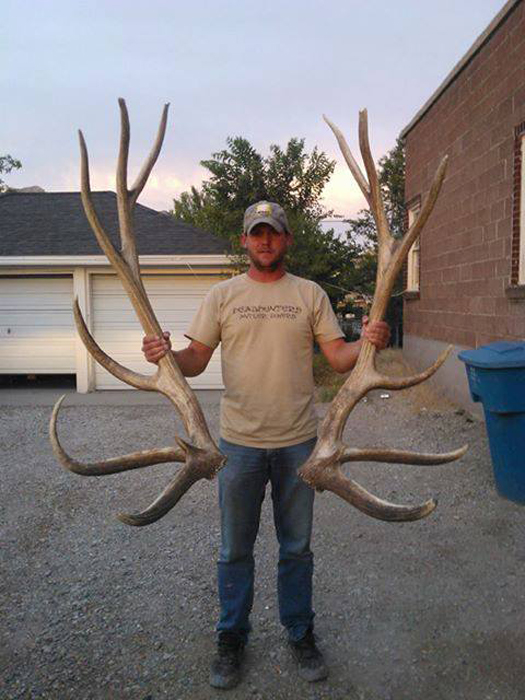 When a set reaches the magic number of 400" it is usually worth more though prices can fluctuate depending on the set's attributes or specific characteristics. The average price for a 400" set is about $1,000. Some 400" sets can bring much more depending on the overall quality, color and characteristics!
Are nontypical sheds priced differently?
Nontypical sheds can be worth more depending on the look and size. Some nontypical antlers may be more desirable to collectors. Again there are a lot of factors that can attract more attention and can bring more money.
Antler prices per pound for deer and elk

Quality

Mule deer

Elk

Brown
$10 per lb.
$12 per lb.
White
$6 per lb.
$8 per lb.
Chalk
$2 per lb.
$3 per lb.
*Anter prices are rough estimates and change form year to year.
Selling price for matched mule deer shed antlers

Size

Matched set price

170"
$50
180"
$200
200"
$400
210"
$450 plus
*Matched anter prices vary on size, color, uniqueness and typical or nontypical. These are rough estimates and change form year to year.
Price for selling your matched elk shed antlers

Size

Matched set price

300"
$200
350"
$400
400"
$1,000 or more
400" plus
$1,500 or more
*Matched anter prices vary on size, color, uniqueness and typical or nontypical. These are rough estimates and change form year to year.
You are looking to buy 100,000 pounds of sheds in 2015. What do you do with those?
My goal this year is to buy 100,000 pounds of antlers this year. That is worth approximately $1,000,000, with a small profit margin. When buying shed antlers you have to consider overhead, gas, mileage, expenses on truck, and storage trailers to haul antlers. My profit will be about 50 cents a pound at the end of the year.
How do you find the clients to buy from?
Most of the people I buy from find me through word of mouth. Shed hunters have friends that shed hunt. When they sell their sheds to me, and see how much they are worth, they usually tell their friends.
I feel if I treat my sellers right they will continue to want to sell to me year after year and that is what is most important to me. I want everyone I buy from to feel like they were treated fairly! I have been collecting antlers myself for about 25 years and have sold thousands of antlers. I know what it feels like to have a bad experience and to feel like I did not get a good deal on my hard earned antlers.
How has shed prices fluctuated over the last 10 years?
Over the last 10 years antler prices have roughly doubled. While there are a lot of reasons why antler prices vary, it is a lot like the stock market where demand and prices fluctuate regularly.
What drives the market? Chew toys for dogs?
Right now there is a big demand for antlers because there are so many different things antlers are used for like crafts, chandeliers, jewelry, dog chews, decoration, knife handles, and medicinal purposes.
What time of year is the best for selling sheds?
The peak selling season is February to June. This is due to the majority of people shed hunting in the spring when the fresh brown antlers can be found.
There are a lot of shed hunters that do it year-round. I prefer shed hunting over hunting. There is an excitement that is hard to describe about shed hunting because you never know what you might find. That surprise is what keeps me going -- for that chance to find a once-in-a-lifetime shed or something else really cool!
Jared is the owner of Great Basin Antler Buyers. Feel free to look him up on Facebook or give him a call at: 801-473-3508.