Back to Maps
How to import content into
goHUNT

Maps
If you've ever used a GPS or mapping app, then you have your own map content.
It takes less than a minute to transfer that content into goHUNT Maps — it's just as easy whether you have waypoints, tracks, lines, areas, or any combination of them.
We'll start with importing and talk about exporting next.
How to import waypoints, tracks, lines and areas
No matter where your files are coming from, the process is the exact same.
Start by making sure you are logged into your INSIDER account. Then click on Maps.
On the lower-left corner of the screen will be an "Import" button.
Click that Import button and a toolbar will appear for Importing Files.
You can either drag and drop your .KML or .GPX file to that box or just select your file from your computer.
You will then see your "Selected File" and the file size.
Now click on the orange "Import" button.
You'll now see a confirmation page that shows that your import was successful.
From here, just click "Done" and you will now have access to all your imported information. You can access it in your "Saved" content area, or from the collection automatically made for your import.
How to export your data from other sources
Exporting from other mapping apps
If you are using a different mapping application: Log into that service, go to your content, and select everything by clicking the select all button, which will grab all your waypoints, tracks, lines, polygons, etc.
Then you will need to click on an Export button. You can save your hunt information either as a .KML or .GPX. Either format works.
That file will then be saved to your desktop or wherever you saved it to.
Exporting data from Google Earth
Once you have Google Earth open, on the left toolbar you will see "Places."
In that area, you probably have a folder with your waypoints, tracks, lines, etc.
To export your data, you will want to right-click on the folder, then click "Save Place As."
Now you can name your export and the destination you want to save it to. For convenience, it is typically best to save it to your desktop for ease of finding it.
Note: be sure to change the extension of the export to .KML.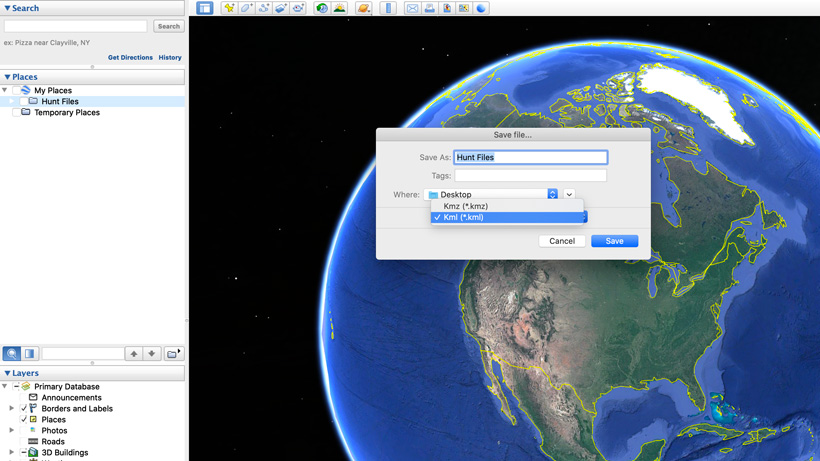 Next click "Save" and your files will be saved to your desktop.
Exporting from goHUNT Maps
We are in the middle of adding export to goHUNT Maps, so you can back up your data if you want. It is in testing now and will be released soon along with goHUNT Mobile for iOS and Android.
---
If you're an INSIDER, goHUNT Maps is included in your membership at no additional cost. If you aren't a member, you can try it FREE for seven days. If you have any questions, feel free to comment below and we'll be happy to explain in further detail.